SERIOUSLY NOT FUNNY documents the carnivalesque 2016 Republican National Convention from the outside – the people's side. We interviewed dozens, if not hundreds, of people. We filmed protesters and counter-protesters, as well as ironic, comedic, magical, musical, belligerent, and prayerful demonstrations. We lost all hope, we found deeper meaning, we cried and we laughed and we kept the cameras rolling.
* * * * *
Inspired by the 1972 documentary Four More Years, from the pioneering video collective TVTV, SERIOUSLY NOT FUNNY was made collaboratively by five students and two professors from Antioch College.Republican National Convention




Festivals:



April 27th 10:00pm: Competitive Screening #5
Adler Journalism Building, E105 Franklin Miller Screening Room





Forest Bright, Lillian Burke, Ellie Burke, Odette Chavez-Mayo, David Blakeslee, Charolette Norman, Kelly Gallagher, Charles Fairbanks at Indie Grits in Columbia, SC. SERIOUSLY NOT FUNNY won the 2017 Young Grit Award!!!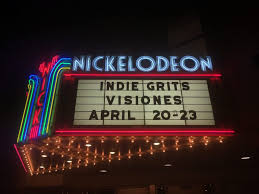 Screening At Indie Grits in Columbia South Carolina

Our Award!